Online Service
Contact Person:

Mr. PETRE .C
Cable Wire Peeling Machine
Product categories of Cable Wire Peeling Machine, we are specialized manufacturers from China, Cable Wire Peeling Machine, Cable Peeling Machine suppliers/factory, wholesale high-quality products of Wire Peeling Machine R & D and manufacturing, we have the perfect after-sales service and technical support. Look forward to your cooperation!
China Cable Wire Peeling Machine Suppliers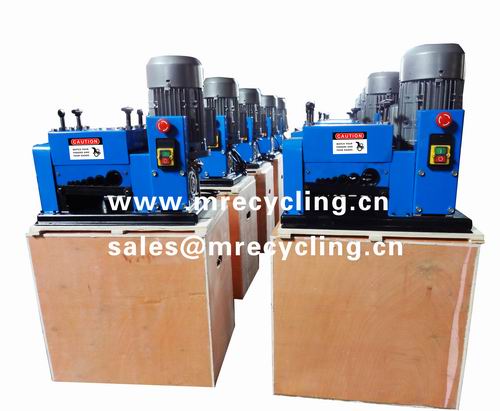 It is a machine that sits on a table or bench, and has an opening through which you feed insulated wire.

It's quite simple because the stripped wire comes out the other end in a matter of seconds.

Many of these pvc insulated cable peelers can handle wire up to 2 inches thick.
Instruction:

1.If there is an anomaly: when the knife peels the side or the cable is not cut tighten the upper tension bolts which faces the problem;
press the setting screw tightly, adjust the knifepoint in the right place, try peeling the cable again until you reach the ideal result, then tighten the screw bolt.

2. If line core in the cable is deeply cut, please adjust the loosen the upper pressure setting screw, if this is not possible (as you`re already in
the largest channel and the knifes are still cutting deeply into the metal) adjust the lower mandrel setting screw (which will raise the upper
cutters/rollers), put the knife axes up tightly to the desired place (make sure that both the left and right sides rise or fall at the same time
in order to keep the knife and main axes level).